Have you heard the terms "slow fashion" and "fast fashion"? Do you know what they mean? Most of us purchase excessive amounts of clothing and accessories every year. And many of those pieces are crafted utilizing practices that harm our environment and create an incredible amount of waste.
Can your fashion purchases truly impact the environment? Absolutely. Not only does intentional and thoughtful purchasing mean you'll seek out items that are intentionally made, you'll also find that you will enjoy items that are more durable, beautiful and enduring. And those items can be used for years and even be passed on to future generations.
This is true in the bridal industry, as well. In a world where a few quick clicks can order inexpensive trinkets and poorly constructed garments, make time to seek out gowns, shoes, accessories and handbags that are not only beautiful but constructed from quality materials using slow fashion practices. And take your good intentions a step further: purchase from companies not only dedicated to slow fashion, also select brands that give back in some way. Many couture organizations support a wide variety of non-profits that work to end issues such as hunger, poverty, childhood marriage, discrimination and much more.
SLOW FASHION AT THE MRS. CLUTCH:
Here at The Mrs. Clutch, we thoughtfully craft beautiful heirloom-quality handbags for brides and others seeking a lovely little bag for a gift, special occasion or "just because". Our stunning bags are created from Italian Taroni Silk and finished with a Swarovski crystal quatrefoil emblem. Quality materials are not only beautiful but durable and made to last. The Mrs. Clutch creates these classic handbags in limited quantities, which helps to minimize waste and reduce overproduction. This slows the fashion cycle.
We want every bride to feel beautiful, beloved and adored on her wedding day. Which is why we have partnered with
VOW, an organization dedicated to ending child marriage. Every year, more than 12 million girls are married before they turn 18. Many of these girls are put at risk for violence, poverty and poor health. The Mrs. Clutch donates $10 to
VOW from every clutch purchase. When you select a bridal clutch from The Mrs. Clutch, you are not only purchasing a beautiful mini purse, you are also supporting a very important cause.
BRIDAL STYLE BEYOND THE AISLE:
You'll hear this phrase a lot from all of us here at The Mrs. Clutch. This sentiment is two-fold. While it's true that your lovely clutch purse is not only a perfect accessory for your wedding day, your honeymoon, your upcoming romantic dates and future special events, we believe that you also carry the love, faith and luck from your wedding day into your future when you include you're The Mrs. Clutch bag. Our quatrefoil emblem not only signifies love and luck, we know that the many special memories your wedding clutch has been a part of will stay with you well into the future. When you use your bag again and again, you're contributing to the slow fashion effort.
While it can be tempting to be swept up in flurry of excitement and shopping that is part of planning for the big day, it is wise to take the time to make informed and intentional choices when selecting attire, accessories, brands and vendors needed to create your dream wedding. A little extra research and careful thought ensure that you can be confident you will select quality pieces and responsible partners to make your dreams a reality.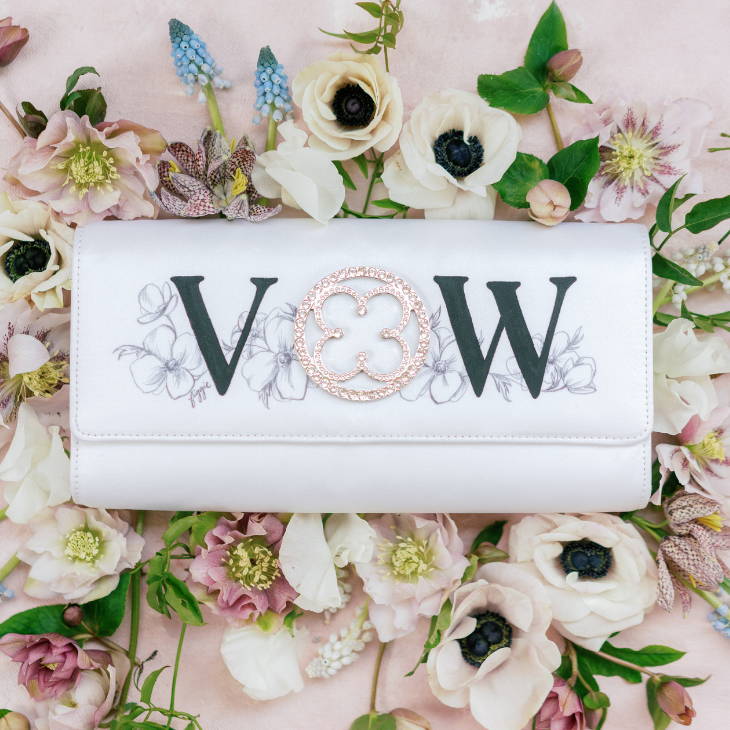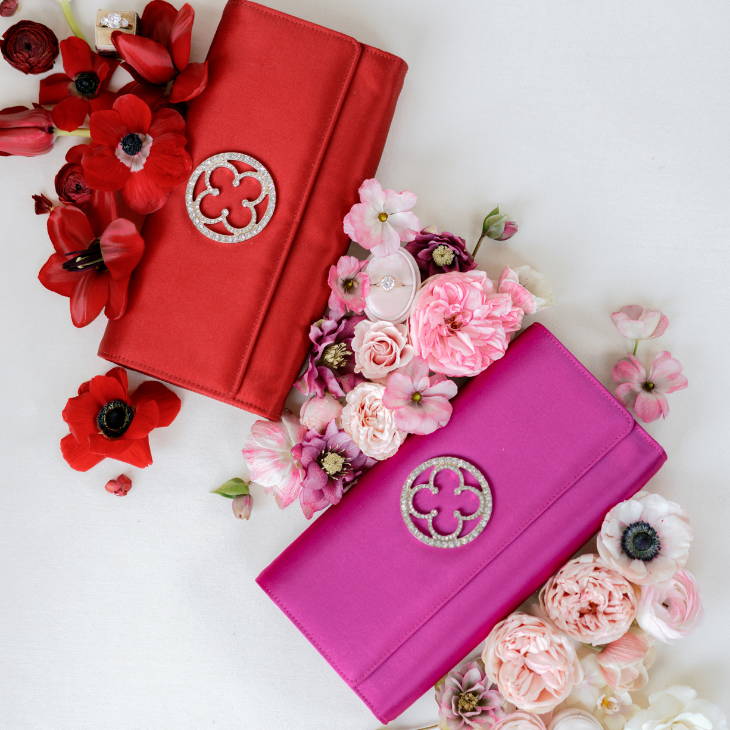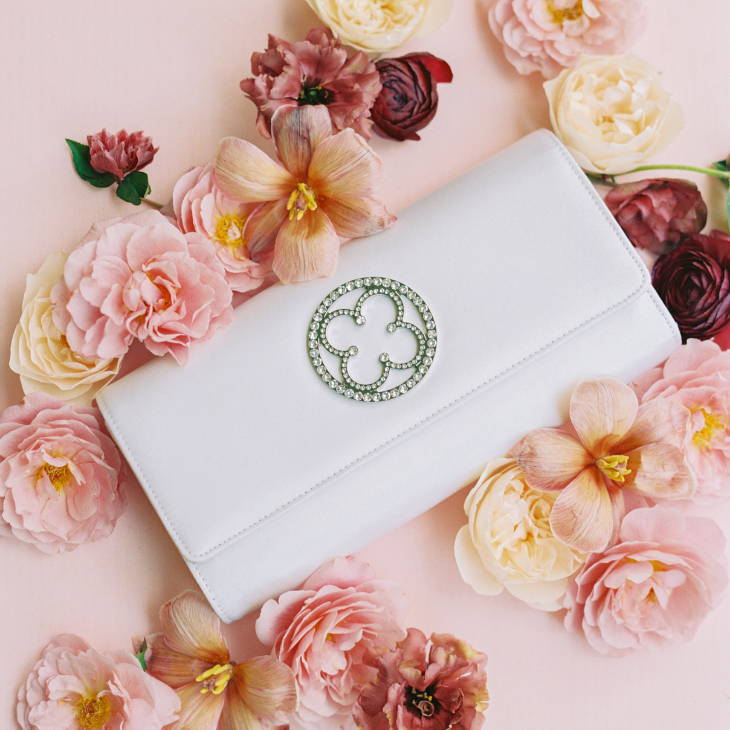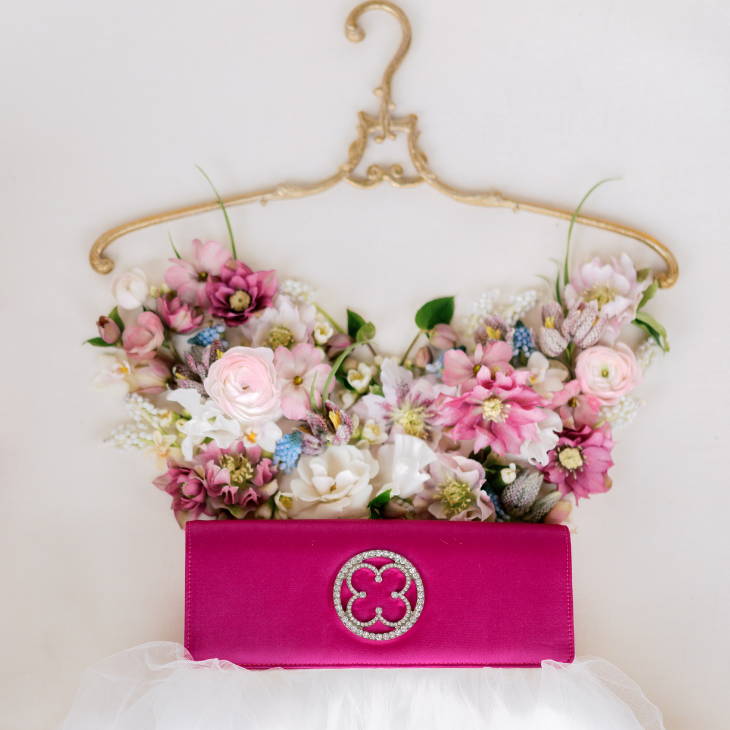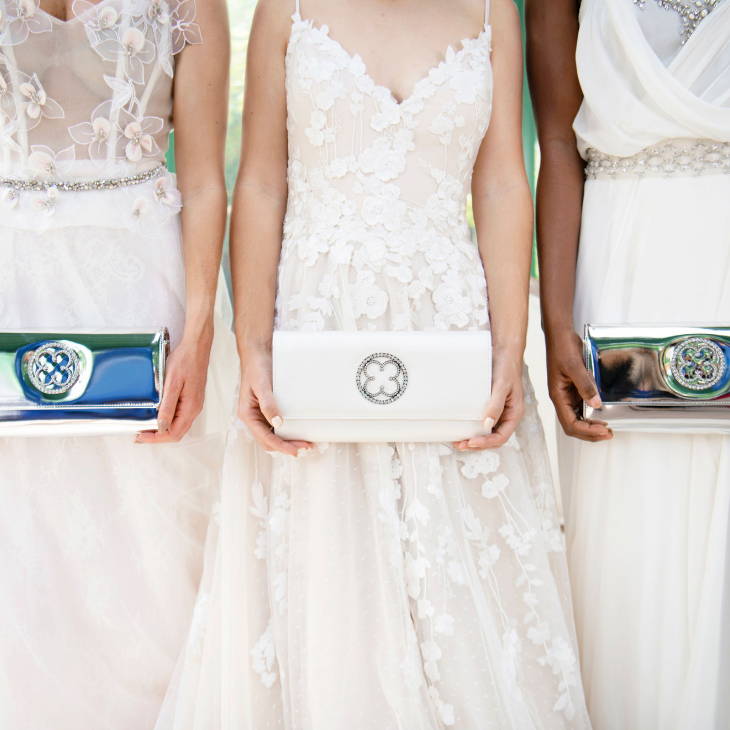 Make your love story have a lasting impact when you choose slow fashion and responsible brands as part of your wedding planning. Heirloom quality pieces constructed of fine materials in a careful way ensure minimal waste and item longevity. And purchasing from brands and selecting vendors who are dedicated to giving back means that the love story isn't just about you and your beloved, it reaches far beyond the two of you and betters the lives of many.
"Make your love story have a
lasting impact
when you choose slow fashion & responsible brands as part of your wedding planning."
- Maria Caruso Martin
The Mrs. Clutch is a luxury fashion brand consisting of a stylish collection of clutches to have and to hold beyond the aisle and other specialty products. The company's DNA is to help raise awareness about the slow fashion movement. Representing Love & Luck with the signature Quatrefoil, The Mrs. Clutch creations are made from the finest fabrics and materials sourced from Italy and manufactured in New York.