A luxury wedding clutch is much more than a beautiful accessory. An extravagant clutch adds matchless style, grace and elegance to your wedding day look, and it's also an exquisite way to keep needed items nearby on the big day without asking your maid of honor or another trusted friend or family member to tote things for you.

Whether you choose a gorgeous clutch bag in traditional white, a bold shade, lovely blue or mirror metallic, you cannot go wrong with a stunning wedding clutch contain needed essentials. Don't forget to include these must-have items in your clutch on the big day:
Whether you want to snap a selfie or need to text a bridesmaid, having your cell phone handy on the big day is priceless. Tuck your phone and a small portable charger in your wedding clutch to ensure peace of mind.
Your wedding day is sure to be filled with ample romance and heightened emotions. When tears of joy are close at hand, be ready with a slim package of tissues or an heirloom handkerchief to keep tears from marring your flawless face and beautiful dress.
Not only will you be kissing your beloved on the big day, you'll likely be hugging, air-kissing and visiting with friends and relatives. Keep your breath fresh with a petite pack of gum or mints tucked into the corner of your wedding clutch.
There will be times throughout your wedding day when you'll need to wear a mask to ensure the health and safety of yourself and others. Keep your wedding day mask close at hand in your clutch to ensure quick access as well as clean and secure storage when the mask is not needed.
Keep germs at bay by including a tiny bottle of hand sanitizing gel or spray in your wedding clutch. You're sure to mingle with guests and touch many surfaces throughout the course of the day, so a small sanitizer is a great way to ensure quick clean up when you cannot take time to wash your hands.
Throughout the day you'll likely be visiting, sipping, snacking and – of course - smooching your beloved. Ensure that your lips are up to the task by keeping your favorite lipstick, gloss or balm in your bag. The tiny tube won't take up much space, but you'll be glad to have it handy in order to reapply often.
Tame fly-aways and maintain intricate up-dos with a few extra hairpins tucked into your wedding clutch for coiffure emergencies.
It's a good idea to have items on hand in your wedding clutch in case of wedding day wardrobe challenges and other unforeseen circumstances. Safety pins, bandages, stain remover wipes and other handy aids can be useful to have on hand during the big day. Tuck them in your wedding clutch just in case.
Whether you need to check your hair, dry your tears or reapply your lipstick, having a mirror close at hand throughout the big day is a smart idea. The interior of The Mrs. Clutch wedding clutch features a beautiful quatrefoil design that
doubles as a mirror
. The pretty accent conveys love and luck, but its usefulness as a mirror also means one less thing for you to keep in your bag.
Keep shine at bay with quick access to powder or blotting papers. Easy to slip out of your clutch if you notice shine getting out of control, powder or blotting papers will help you feel fresh and confident throughout the day.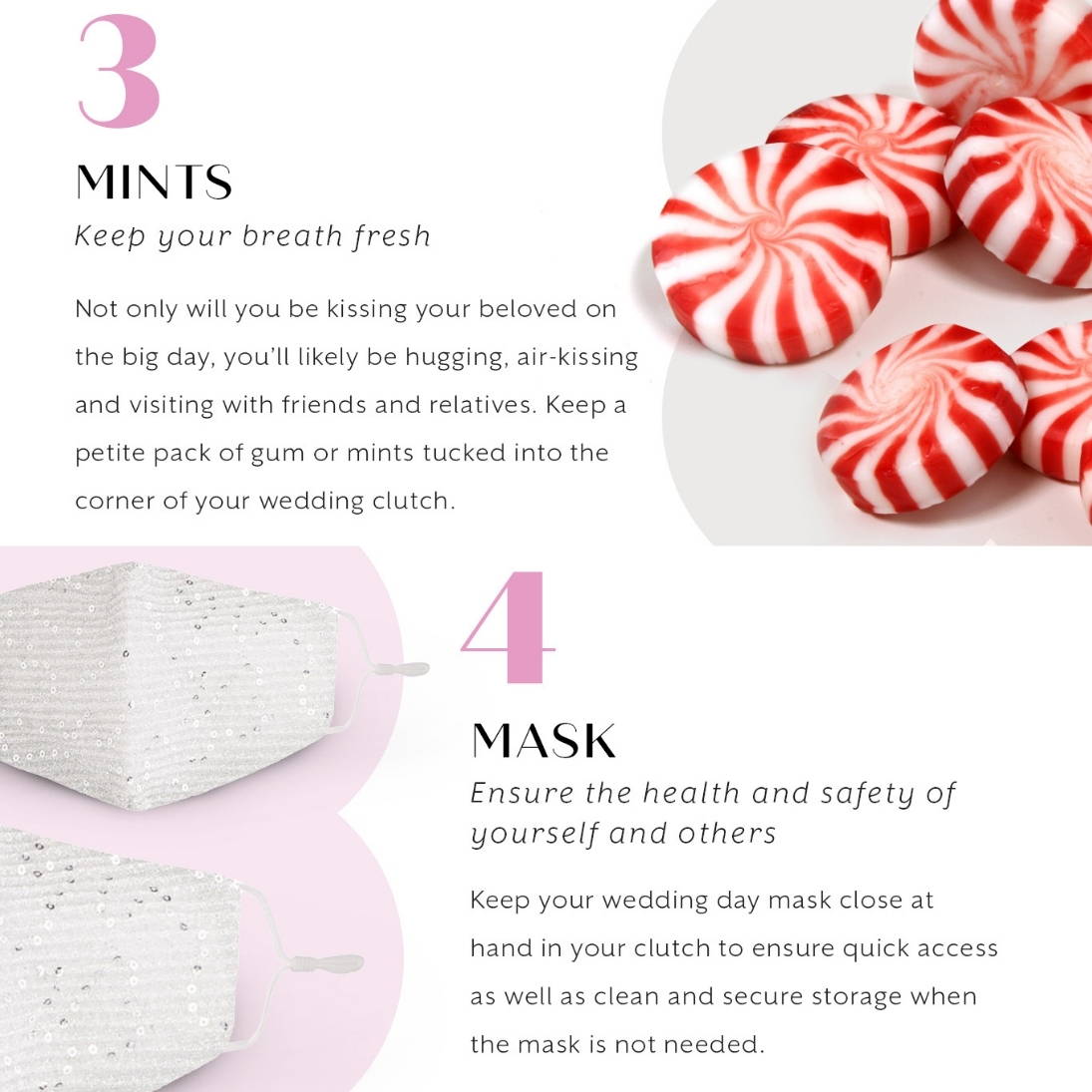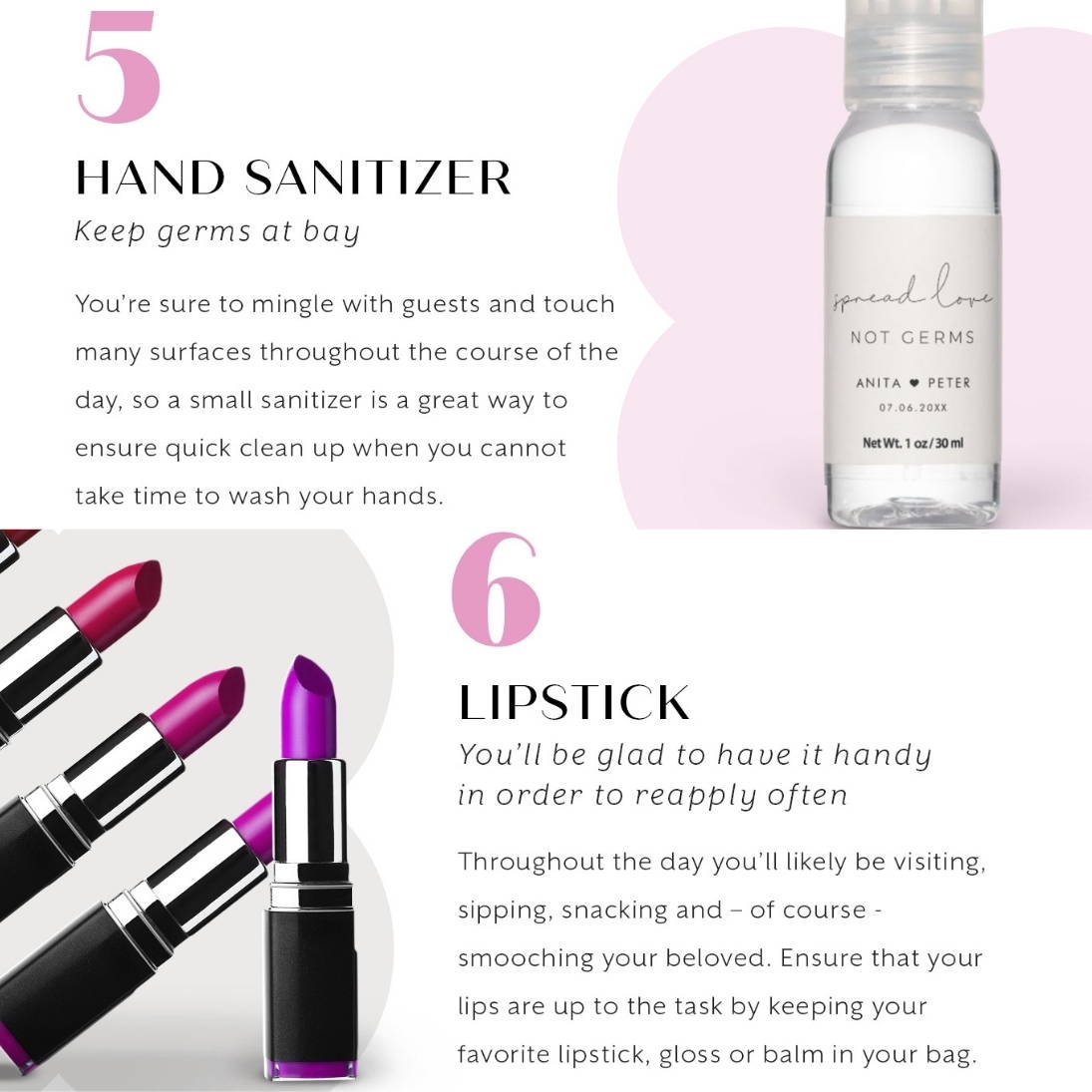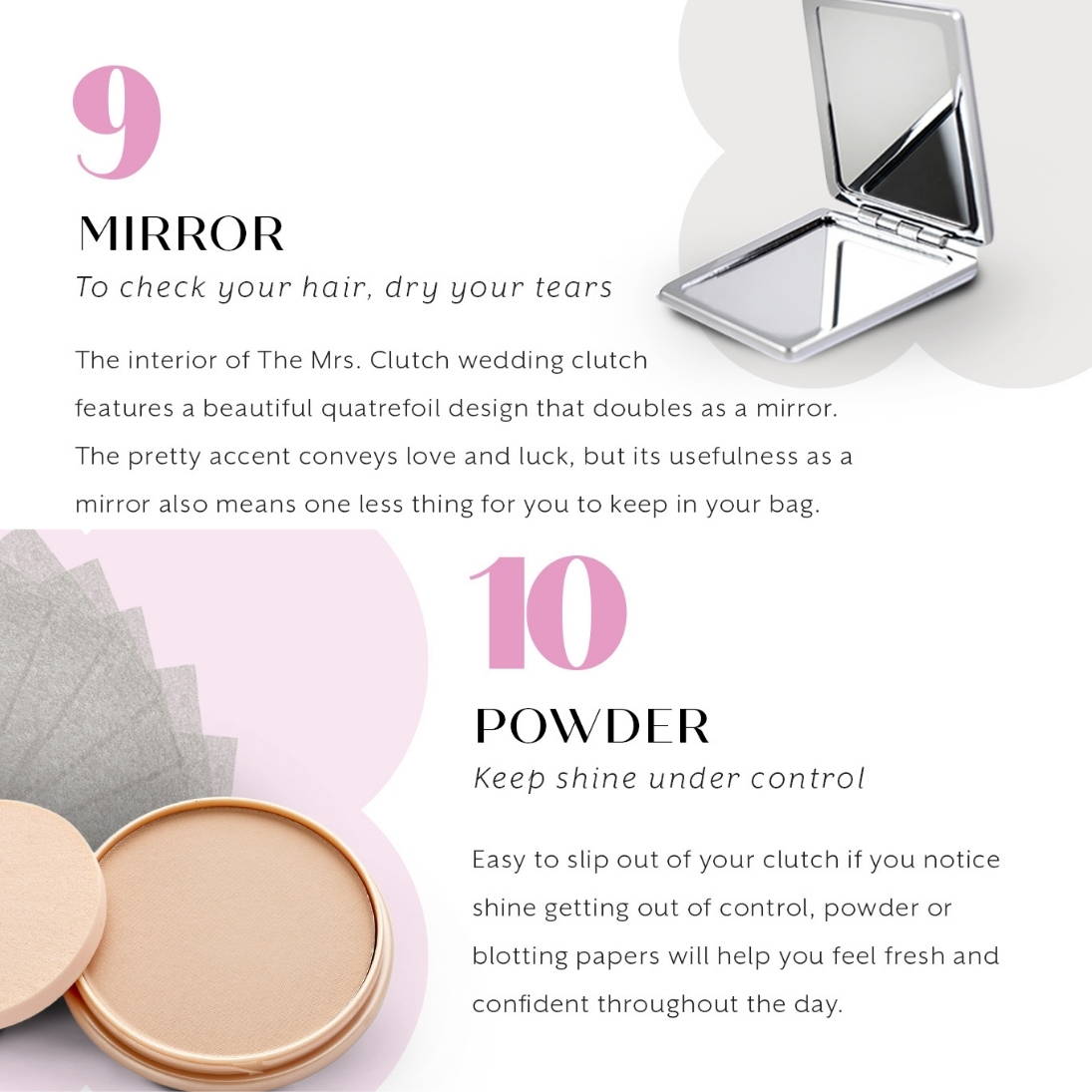 A wedding clutch is a beautiful way to contain these and other must-haves for quick access to on your wedding day. A wedding clutch is a beautiful way to ensure that needed items are close at hand when you say "I do," but the matchless style of an heirloom-quality clutch can go beyond the aisle. Wedding clutches can be used again and again at future events that call for an evening handbag. And you might even consider loaning your heirloom quality bag to another bride for her big day for her "something borrowed," as well. Be sure you share your list of wedding day clutch essentials when you share your bag. You'll be passing on love and luck to the next generation of brides, and helping to create a happy ending to another love story.
"A wedding clutch is a lovely way to keep needed items nearby on the big day without asking your maid of honor or another trusted friend or family member to tote things for you."
- Maria Caruso Martin
The Mrs. Clutch is a luxury fashion brand consisting of a stylish collection of clutches to have and to hold beyond the aisle and other specialty products. The company's DNA is to help raise awareness about the slow fashion movement. Representing Love & Luck with the signature Quatrefoil, The Mrs. Clutch creations are made from the finest fabrics and materials sourced from Italy and manufactured in New York.